FARM TO SCHOOL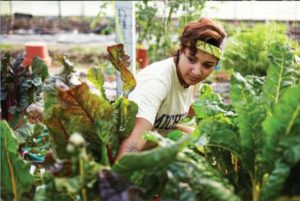 In the beginning, we partnered with schools as members of Community Gardens. For instance, we supported the growth and expansion of a garden at Prairieview, Westlake, Dudley, Northwestern, and students at Ann J Kellogg grew seedlings for us.
Today, through funding from the WK Kellogg Foundation, Binda Foundation, Battle Creek Community Foundation, Pennfield Education Foundation, and United Way, we have been able to expand our reach in schools through a comprehensive school gardening program.
School Gardens as a Learning Tool for all subjects: Through partnerships with educators and administrators we have added supplementary, hands on learning opportunities woven into current curriculum with educators at North Penn Elementary, Dudley Elementary, Calhoun Community High School, and Lakeview High School. We intend to expand these opportunities to other schools with a desire for a value-added experience. Contact our Education Team Here
School Markets: When seeking to increase the access to healthy food for all our residents, we try to meet people where they are each day. Our school partnerships offer a great opportunity for us to provide affordable, local, fresh, healthful produce at a market stand that we set up after school, making it a little bit easier for parents to choose health. In addition, this program is cool because we offer leadership opportunities for kids at the school to help out at the market, putting their communication and math skills to work in a realistic setting.
Visit our Farm: We welcome field trips to our 2 acre urban farm on the northside of Battle Creek. We design tours based on your needs. We also are very happy to accommodate volunteer working groups through schools and have done just that for 3 years with groups like National Honor Society and Youth Days of Caring.
Local & Fresh in the Cafeteria: We are currently building relationship with all area Food Service Directors to continue their efforts in providing nutritious meals, while supporting local farms and the local economy.
Are you located in Battle Creek, Marshall or Kalamazoo and interested in our Farm to School program? Contact Program Manager 
Educator Resources
The following list offers a variety of resources from organizations around the country who are making a difference in schools through farm-to-school programs.
Center for Regional Food Systems
The Center for Regional Food Systems' goal is to engage the people of Michigan, the United States and the world in applied research, education and outreach to develop regionally integrated, sustainable food systems.
University of Minnesota Extension
Minnesota has seen rapid growth of farm to school. The number of Minnesota school districts engaged in farm to school practices rose from 18 districts in 2006 to 268 districts in the 2014. According to the most recent USDA Farm to School Census data, schools responding reported spending 13 percent of their budgets on local products, with a total of $12 million invested in the Minnesota economy through purchasing local food.
The School Food Project,  believes that for kids to learn, think and be the best they can be, they have to eat well. Because of this, they're dedicated to improving the health of each student by providing healthy food and offering nutrition education programs to grow young bodies and minds.
The Lunch Box shares best practices from around the United States by building a network of school food changemaers. THey have a wide range of in-depth tools and resources to help with menu creation, financial management, procurement, marketing, and engagement strategies. Enjoy free access to scalable and downloadable receipes, USDA-compliant menu cycles, procurement tools, financial calculators, implementation strategies, training tools, marketing materials and much more.
Their mission is to provide tools that help schools serve children healthy and delicious stratch-cooked meals made with fresh, whole food.
Vermont Food Education Every Day (VT FEED) raises awareness about healthy food, good nutrition, and the role of Vermont farms and farmers in helping sustain a healthy community. They do this by helping to grow robust farm to school programs, acting as a catalyst for rebuilding healthy food systems, and cultivating links between classrooms, cafeterias, communities, and local farms.
National Farm-to-School Network
Their mission is to provide a consistent and unififed foundation for Wyoming Farm to Plate Stakeholders; including…producers, consumers, retailers, schools and all other interested in quality local foods.
Iowa Department of Agriculture
Iowa is a state known for its agriculture. But you probably didn't know its also known for its farm-to-school programs as well.
Children need healthy food. This should go without saying, but the current U.S. food system makes it hard to ensure that kids get the kinds of foods they need to grow into healthy adults. The average U.S. child eats only one-third of the fruits and vegetables recommended by the Dietary Guidelines for Americans.
School Food Focus is the national collaborative that ignites change in our school food system by connecting districts and food businesses across the supply chain to put delicious, nutritious meals on kids school plates.
National Farm-to-School Network
The National Farm to School Network (NFSN) is an information, advocacy and networking hub for communities working to bring local food sourcing and food and agriculture education into school systems and early care and education settings.
United States Department of Agriculture – Food and Nutrition Service
FNS works to end hunger and obesity through the administration of 15 federal nutrition assistance programs including WIC, Supplemental Nutrition Assistance Program (SNAP), and school meals.  In partnership with State and Tribal governments, our programs serve one in four Americans  during the course of a year. Working with our public, private and non-profit partners, our mission is to increase food security and reduce hunger by providing children and low-income people access to food, a healthful diet and nutrition education in a way that supports American agriculture and inspires public confidence. No American should have to go hungry.
ChopChop Kids is an innovative non-profit organization whose mission is to inspire and teach kids to cook real food with their families. They believe that cooking and eating together as a family is a vital step in resolving the obesity and hunger epidemics.
Farm to school enriches the connection communities have with fresh, healthy food and local food producers by changing food purchasing and education practices at schools and preschools.
Readers to Eaters was founded in 2009 with a mission to promote food literacy from the group up. They want children and families to have a better understanding of what and how we eat.
Alachua County Public School's Farm to School to Work Hub is a place where students can learn about the food system by experiencing it.
The Edible Schoolyard Network connects educators around the world to build and share a K-12 edible education curriculum.
Schoolyard Farms is a 501(c)(3) organization dedicated to creating healthier communities by teaching kids how to grow nutritious food that goes from their schoolyard to their plate. They do this by building mini-production farms on underused schoolyards that act as outdoor classrooms for the schools we serve.
Farm to Preschool is a natural expansion of the national farm to school model and encompasses a wide range of programs and activities.  Farm to Preschool serves the full spectrum of child care delivery: preschools, Head Start, center-based, programs in K-12 school districts, nurseries and family home care facilities.
To empower all children with the knowledge, attitudes, and skills they need to have healthy relationships with food.
Community GroundWorks is a nonprofit organization that connects people to nature and local food. Through hands-on education, children and adults learn gardening, urban farming, healthy eating and natural areas restoration.
Apple seeds mission is to inspire healthy living through garden-based education starts in area schools.